Foil Stamping
Why do we love foil stamping?  It's pizazzy, jazzy with a little mystique.
We can stamp on paper, board, fabric, leather, plastic and probably some surfaces we haven't tried yet! It's easy to test different foils and even try layering them – and there's no press wash-ups to be concerned with.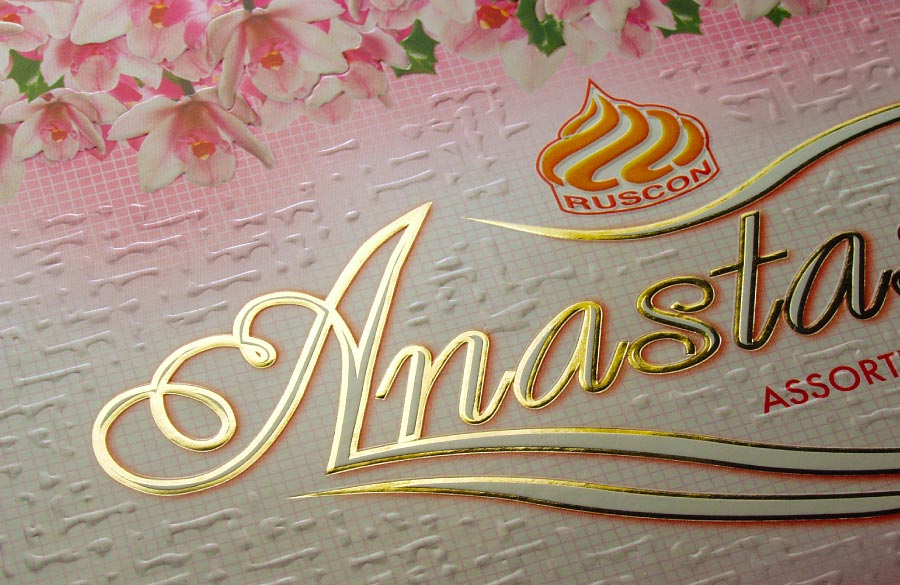 Letterpress:
We love letterpress & all the amazing patterns are a favorite of ours.
Letterpress can emulate the textures of tile or upholstery and make an engaging background for typography and Litho illustrations. Letterpress is also great for hand lettering and sketches. Our customers usually specify a "deep impression," and our pressmen can adjust the depth/relief as requested. During the planning/proofing stage, we may suggest fine revisions to the artwork (especially type) to allow for a more tactile result.
How it works:  Letterpress is a relief printing process. The image to be printed is raised above the base of the plate. Pressure is applied to push the image into the paper, on either a cylinder or a platen press. Many clients – including artists and designers, as well as brides and event planners – favor a deep impression. Cotton papers have long, strong fibers and are well suited to a "hard hit." Letterpress is also a great choice when selected stocks are too thick or too ridged for a conventional Litho press.
Laser Die-Cutting for a Pop Up
Laser cutting has quickly become recognized as a more accurate, flexible solution that outperforms traditional die cutting methods in several ways. This non-contact process eliminates the need for hard tooling and is a fast, clean, cost-effective production solution which maintains an exceptional standard of quality. Laser cutting is especially ideal for applications with feature locations, tolerances, size, or material characteristics that would typically be difficult or impossible to process using a traditional die.
Laser Die-Cut Packaging & Labels
Laser Die-Cut Packages & Labels
As the market for convenient easy-open, easy-tear, easy-breathe and easy-fill packaging continues to expand, Directed has the right technology expertise to meet your requirements.  Our manufacturing partners feature patented laser beam compression hardware and software that produce the most consistent and round holes and patterns in the industry. We feature high processing speeds (up to 1200 fpm) while handling  rolls up to 50 inches wide.